Penetrating Pain Relief
Double Action Formula
ArthArrest Topical Analgesic combines capsaicin with the vasodilator methyl nicotinate, together, this means greater arthritis pain relief, faster and longer lasting.
How it Works?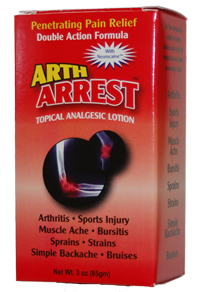 When applied topically, methylnicotinate dilates the capillaries at the affected area and relieves pain immediately through counterirritation, while capsaisin relieves pain through a cumulative effect. In other words, the more you use it, the better it works. Capsaicin (a derivative of hot peppers) appears to reduce the amount of a natural chemical known as substance P, which is present in painful joints. Substance P is believed to be involved in two processes central to arthritis: the release of enzymes that produce inflammation and the transmission of pain impulses from the joints to the central nervous system. By blocking the production and release of substance P, capsaicin can reduce the pain associated with arthritis as well as dampen the transmission of pain messages to the brain. ArthArrest Topical Analgesic
Double Action.
Non-Greasy.
Penetrating Relief.
Touch-Free.
Roll-on Applicator.
USES: Temporarily relieves minor aches and pains of muscles and joints due to Arthritis, Sports injury, Muscle ache, Bursitis, Sprains, Strains, Simple backaches, Bruises
DIRECTIONS:
Adults and children 2 years and over; apply to affected area no more than 3-4 times daily.
Children under 2 years of age consult physician.
How to Apply:

Apply to a small area of the skin as a test for sensitivity at least 60 minutes prior to applying to a wide area.
WARNINGS
For external use only
When using this product
Use only as directed
Avoid contact with eyes
Do not apply to wounds or damaged skin
Do not bandage tightly
Stop use and ask doctor if:
Condition worsens
Excessive irritation of the skin develops
Pain persists for more than 7 days
Symptoms clear up and occur again within a few days
Keep out of reach of children. If swallowed get medical help or contact a Poison Control Center immediately.
Other Information. Products containing capsaicin may cause burning, stinging or tingling sensation where applied. This is a natural reaction and varies with each individual and usually decreases or disappears after continued use. ArthArrest may be removed from the test area by wiping rubbing alcohol.
Available locally at :